Environmental Concern is Celebrating 50 Years
Working for Wetlands:  Habitat, Water Quality, and Quality of Life
 We're All About Wetlands:  One day is set aside each year for EC to celebrate with the world!  
 World Wetlands Day:  2.2.2022
What is World Wetlands Day?
World Wetlands Day is celebrated each year on 2 February to raise awareness about wetlands.  This day also marks the anniversary of the Convention on Wetlands, which was adopted as an international treaty in 1971.
                    
Why World Wetlands Day?
Nearly 90% of the world's wetland have been degraded since the 1700s, and we are losing wetlands three times faster than forests.  Yet, wetlands are critically important ecosystems that contribute to biodiversity, climate mitigation and adaptation, freshwater availability, world economies and more.
It is urgent that we raise national and global awareness about wetlands in order to reverse their rapid loss and encourage actions to conserve and restore them.  World Wetlands Day is the ideal time to increase people's understanding of these critically important ecosystems.
A United Nations International Day
This year's celebration of World Wetlands Day is especially significant – as on 30 August 2021 the UN General Assembly adopted a resolution that established 2 February as World Wetlands Day – inviting all 193 UN member states to observe the day, opening the door for greater global visibility for wetlands.
Who is behind World Wetlands Day?
The World Wetlands Day awareness campaign is organized by the Secretariat of the Convention on Wetlands.  Contracting Parties (countries) of the Convention on Wetlands have been celebrating World Wetlands Day since 1997, when it was first established.
Intended Audience:  Who can join?
World Wetlands Day is open to everyone, from international organizations, governments, wetland practitioners, to children, youth, media, community groups, decision-makers, to all individuals, as these ecosystems are important for us all.
Types of Wetlands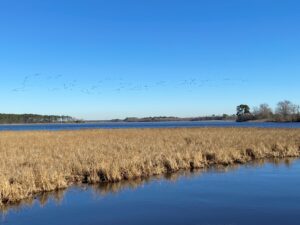 The Convention uses a broad definition of wetlands that includes both freshwater and marine and coastal ecosystems  such as all lakes and rivers, underground aquifers, swamps and marshes, wet grasslands, peatlands, oases, estuaries, deltas and tidal flats, mangroves and other coastal areas, coral reefs, and all human-made sites such as fishponds, rice paddies, reservoirs and saltpans.
This Year's Theme
"Wetlands Action for People and Nature" is the theme for 2022 highlighting the importance of actions to ensure the conservation and sustainable use of wetlands for human and planetary health.
An urgent call to act is the focus of this year's campaign.  It is an appeal to take action and to invest financial, human and political capital in order to save the world's wetlands from disappearing altogether – and to restore those we have already lost.
The Campaign Messages
The overriding message behind this year's campaign is to Value, Manage, Restore, and of course – Love – Wetlands, because if we are to inspire action, we must also ignite greater empathy for these rapidly disappearing ecosystems. 

This year's campaign highlights three main messages, and we invite you to adapt and share them widely.
Value wetlands for the multiple benefits and nature-based solutions they provide for human well-being and a healthy planet.
Manage wetlands wisely and use them sustainably so we can conserve them and maintain the health of these critically important ecosystems.
Restore lost and degraded wetlands to revive the rich biodiversity and life found in these life-sustaining ecosystems.
The world has lost 85% of its wetlands since the 1700s, and they are disappearing three times faster than forests.  During this United Nations Decade on Restoration – and by 2030 – reverse the decline of natural wetlands.
GET INVOLVED – JOIN US!
World Wetlands Day is an opportunity to coordinate global, national and local efforts to raise awareness about wetlands.
A core set of materials have been created to support outreach campaigns, events and nature activities.  The Secretariat of the Convention on Wetlands and Partners of the 2022 campaign have developed these materials that are available to download in English, French and Spanish from the World Wetlands Day website.
Map of Events

Add your event or search.  This online interactive map shows what events are taking place around the world.
https://www.worldwetlandsday.org/events
Campaign Materials
Download and share the campaign materials. Use the pdf files to create and adapt materials for your activities and language.  https://www.worldwetlandsday.org/material
Pledge to Act for Wetlands
The "Wall of Pledges" is a great place to post your "Actions for Wetlands." Invite your audience to make a pledge to act for wetlands. https://www.worldwetlandsday.org/actions