MAMI Mission: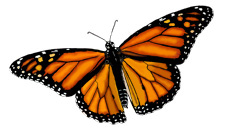 The mission of the Mid-Atlantic Monarch Initiative (MAMI) is to foster collaboration and activate conservation initiatives through shared physical and educational resources to increase Monarch habitat in the Mid-Atlantic region of the United States.
Our Seed Stewards for Monarchs program has grown to over 200 members  –  growing milkweed, creating habitat and working for Monarchs!
Goals:
Educating the public about Monarch butterflies and the importance of creating habitat for Monarchs

Propagating and increasing availability of milkweed species and pollinator species for local restoration and conservation efforts
Creating and restoring Monarch butterfly habitat
Inventorying the existing milkweed populations
Creating "No Mow" zones

Sponsor, Mid-Atlantic Monarch Initiative Programs
MAMI Programs
A team of film-makers, runners, and pollinator advocates will be telling the story of the flight of the monarch butterfly seen through the eyes of ultra-runners who will run the same distance of 4,200 km (2,610 miles) from southern Ontario to Mexico in the fall of 2019. The Monarch Ultra is the first attempt to run across North America (Canada, United States and Mexico) in order to raise awareness of monarch butterflies who make the migratory journey every year, and whose populations are in decline. Most importantly, the Monarch Ultra is an opportunity to connect us as human beings in Canada, USA, and Mexico with common goals of Earth stewardship and biodiversity conservation. Environmental Concern is a Global Partner and our President, Suzanne Pittenger-Slear and Vice President of Restoration, Jessica Lister are both Ambassadors for Monarch Ultra.  In addition to serving as an Ambassador, Jessica will also be one of the Ultra-Runners! We could not be more excited to be a part of this amazing project!
Mini Monarch Ultra
In addition, Environmental Concern Inc. (EC) will be working with local schools on Mini Monarch Ultra Run/Walks that will occur during the same time period as the "Monarch Ultra Relay Run". EC will work with the schools providing them with a "Mini Monarch Ultra" manual (click here to download the manual) that will explain the program; coordinating with the schools and providing them with support in creating their own Mini Monarch Ultra; providing them with milkweed seeds for each of the participants; engaging the school communities through social media and the web; and connecting them with other schools throughout North America participating in the program!
Watch the video below to learn more.
Thank you to the following supporters for their donations to our Mini Monarch Ultra Program.