Teaching About Wetlands Since 1985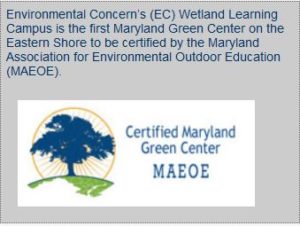 Environmental Concern's (EC) Education Division works to increase understanding of, foster appreciation for, and encourage the stewardship of wetland systems.  Conservation education is one of EC's major initiatives.  Education raises awareness of issues that affect our natural ecosystems, which impacts the quality of life in our communities.
EC offers various educational opportunities and resources including special programs, workshops, events and academic experiences that both engage and educate the public about current Chesapeake Bay Watershed resources and issues.  Educational services are also provided through print media and include the From Seeds to Living Shorelines newsletter, informational brochures and pamphlets.