Celebrating 50 years –  and still growing!
Environmental Concern is proud to offer the highest quality native wetland plant material in the Mid-Atlantic region.  EC propagates native wetland plants from locally collected seed, developing state-of-the-art restoration practices and educating the public throughout the country about the importance of wetlands.  Our nursery is steadily growing to keep up with demand as more government agencies, communities and individuals realize the benefits and beauty of native plants in the landscape.  We look forward to providing you with quality plant materials and excellent, professional service.
Depending on the season, species are available in a variety of sizes and forms, including plugs and various container sizes (all trees and shrubs are in containers).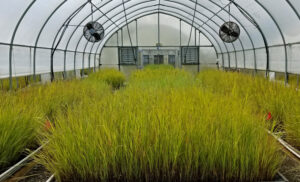 Panicum virgatum (switchgrass) growing in one of EC's greenhouses.
Terms
EC's nursery is structured to sell to the wholesale trade.  We ask that our customers provide the appropriate business registration verification and tax exempt certificate/resale certificate when placing orders.
Minimums
A $100 minimum order is required.
Wholesale pricing is listed in our current catalog.  We welcome advance orders and the opportunity to provide price quotes.
Please submit your list via email to nursery-sales@wetland.org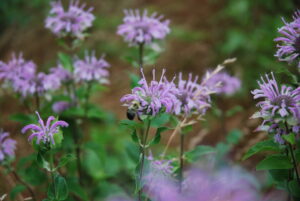 Monarda fistulosa (wild bergamot) propagated and grown from seed in EC's nursery.
Nursery Hours
Wholesale pick-up hours:
Monday through Friday
8:00 am to 12:00 noon
1:00 pm to 4:00 pm
Retail by appointment only.
EC's protocol for picking up your orders safely:
We ask that you call or email first to place your order.
All orders must be paid in advance.
We will have your order ready when you arrive. You will need to call our office (410-745-9620) when you arrive and someone will come out to assist you.
Upon placing your order you will receive specific instructions regarding the loading procedure.
Click one of our brochures below for help in choosing the correct native plants for your growing area.