Wholesale Customers

EC's wholesale native plant nursery is open Monday through Friday from 8:00 am – 4:00 pm
Please submit your request for price quotes to nursery-sales@wetland.org.
Click here to see our 2023 WHOLESALE NURSERY CATALOG.
Plants may be shipped via UPS or Environmental Concern's delivery vehicle.  Please contact our nursery department for more information on shipping costs.
Payment must be made by check or credit card at time of pick-up or delivery.
EC's protocol for picking up your orders safely:
We ask that you call or email first to place your order.
All orders must be paid in advance.
We will have your order ready when you arrive. You will need to call our office (410-745-9620) when you arrive and someone will come out to assist you.
Upon placing your order you will receive specific instructions regarding the loading procedure.
We certify that the plants we provide are of the highest quality.  Any claims or substitutions must be made upon pickup of the plants.  Environmental Concern accepts no responsibility for plants once they have left our nursery.  For claims of damage made during transit, please contact the shipping entity.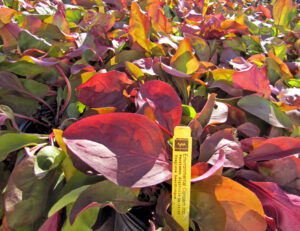 Penstemon digitalis (foxglove beardtongue) is a robust herbaceous perennial that grows up to 3 ft. tall.  The beardtongue attracts bees and other pollinators.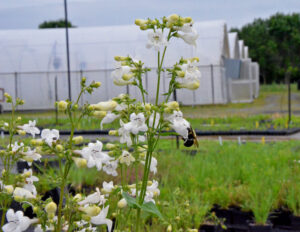 The tubular white to pinkish colored flowers of the foxglove beardtongue bloom in late spring, and attract long-tongued bees, including the bumblebee (in photo) and the Mason bee.
For guidance on making your plant selections, click on our Herbaceous Wetland Species Selection Guide below.